A Muslim couple, who were in the process of moving into a new flat, had pieces of bacon put through their letterbox.
The Islamophobic incident took place on the first day of the holy month of Ramadan.
Speaking to Tell MAMA, the couple stated that some of their new neighbours had been abusive days earlier, citing 'noise complaints' as the couple were furnishing their new apartment which they apologised for. They do, however, feel targeted for their Islamic identity as the woman wears the hijab.
The Metropolitan Police are investigating the incident.
The weaponisation of bacon and other pork products is nothing new and has been used to target mosques and other Islamic institutions. Islamophobic perpetrators have also used pork products to target Muslims in their homes.
In 2017, pork was forced through the letterbox of a Belfast Islamic Centre in Northern Ireland, various other incidents occurred in the same year in France, New Zealand and USA.
In 2018, a Muslim family found pork dumped outside of their property, as part of a sustained campaign of abuse and harassment from a neighbour.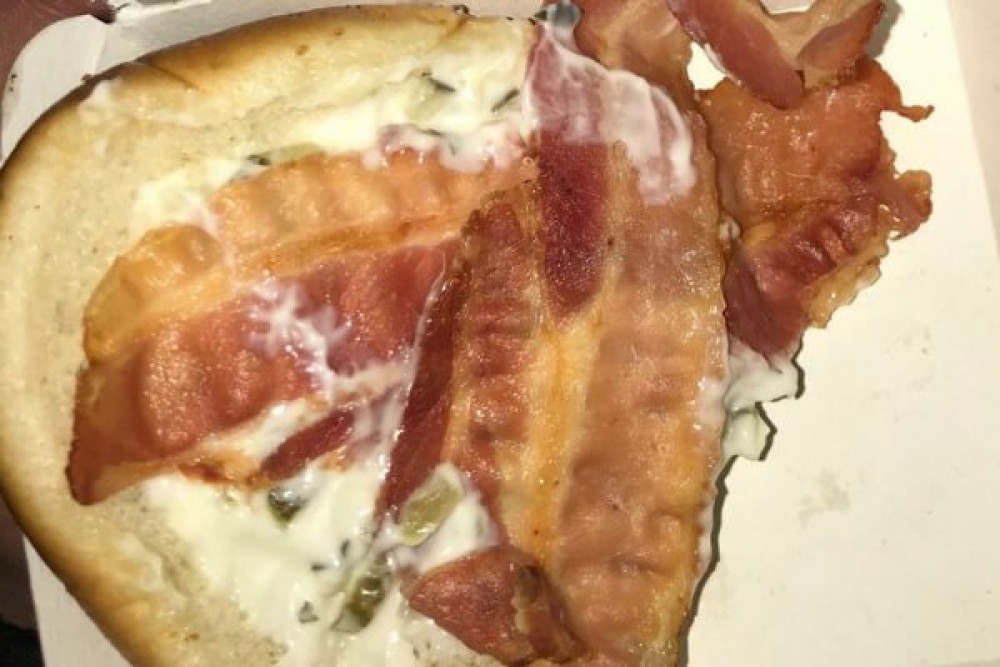 More recently, in April 2019, Tell MAMA published a report how an employee at McDonald's put rashers of bacon in a Fillet-O-Fish meal that was given to a Muslim customer.
The racialised language of Islamophobia does sometimes incorporate language around bacon, for example, the high-profile abuse of the Liverpool winger Mohamed Salah, included the hateful statement, "feed the c*nt bacon".
Allegations of the denial of certain pork-based products underpinned the notorious "Christian child forced into Muslim foster care" story, first published by The Times newspaper. Allegations that foster carers had denied the child such pork-based products were proven untrue.
But the very idea of it, for the apparent distress it caused, taps into a deeper anxiety and conspiracy theories about Muslims. Such thinking can lead to forms of othering and discriminatory acts and behaviours.
Channel 4 TV programme Hollyoaks is currently taking a bold step to highlight racism from far-right extremism and in a recent episode (09/05/19), a Muslim family called the 'Maaliks' have bacon posted through their door.
There are people within our communities that are not fully aware that this type of harassment is a hate crime, but for the people that have seen the Hollyoaks episode will have developed more awareness.
There is information available and resources that can be downloaded that can help educate community members and raise their awareness of what is a hate crime and how to report it. This information is available on the website: www.reporthatenow.com/resources.
EQuIP would like to encourage any person(s) that experience any form of hate crime/incident to always report. You can ring 101 if you suspect unusual behaviour, but always call 999 in an emergency.
If you do not want to contact the police, you can report hate crime to EQuIP, an independant charity if you prefer. You can report hate crimes/incidents online via the www.reporthatenow.com website, email advice@equipequality.org.uk or if you prefer to speak to someone in person, you can contact EQuIP on 01788 863117.