The Conservative Party have suspended a councillor after a complaint was made over their social media conduct in May 2019.
Cllr John Moss, Conservative councillor for Larkswood ward in Waltham Forest, was named in a BuzzFeed News article concerning historic anti-Muslim and Islamophobic Twitter posts that were posted in May 2019.
Cllr Moss has since apologised "unreservedly" for the comments and removed them from his Twitter account. He added that the comments "were not intended to be malicious, but they were careless."
The councillor has stated that he intends to meet with his local imam to apologise to him and to those who attend the mosque.
A Tell MAMA investigation, however, had unearthed several tweets which were then reported to the Director of Governance and Law at Waltham Forest Council on 1st March 2019.
Inflammatory tweets uncovered by Tell MAMA included the statements, "I'm sad to say Islam is damaging to women almost everywhere" and "Of course, the real abuse of animals because of outdated dogma is halal and kosher slaughter."
He signed a Change.org petition in 2016 which called for UK-wide ban on halal slaughter, adding that halal and kosher slaughter should be "consigned to history".
Cllr Moss replied to The Times columnist David Aaronovitch, on March 24, 2016, "Nothing to do with Islam either I suppose?" after Aaronvitch's had tweeted "The Brussels terror attacks have nothing to do with Brexit. My @thetimes column this morning."
It was after the terror attack in Brussels in March 2016 that Cllr Moss had tweeted: "In the name of a "god" which nobody can prove exists, by followers of a "prophet" that nobody can criticise = a death cult."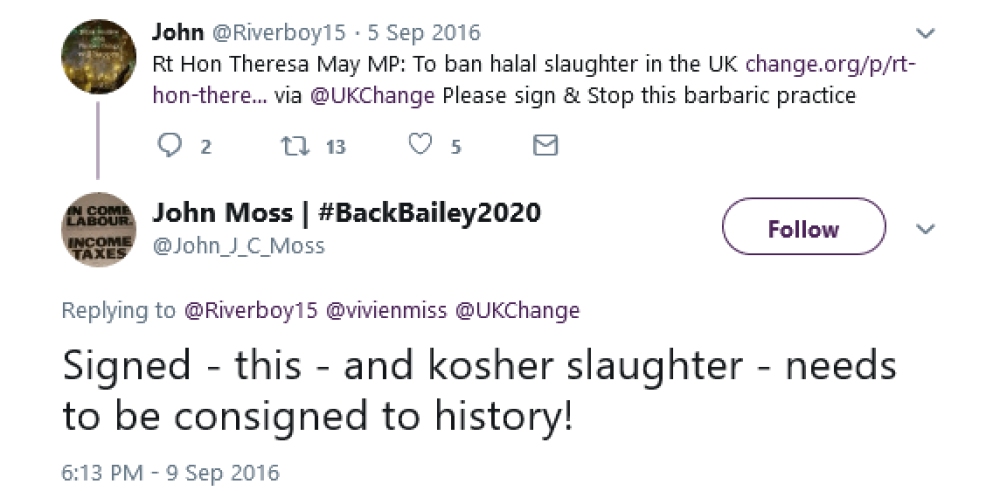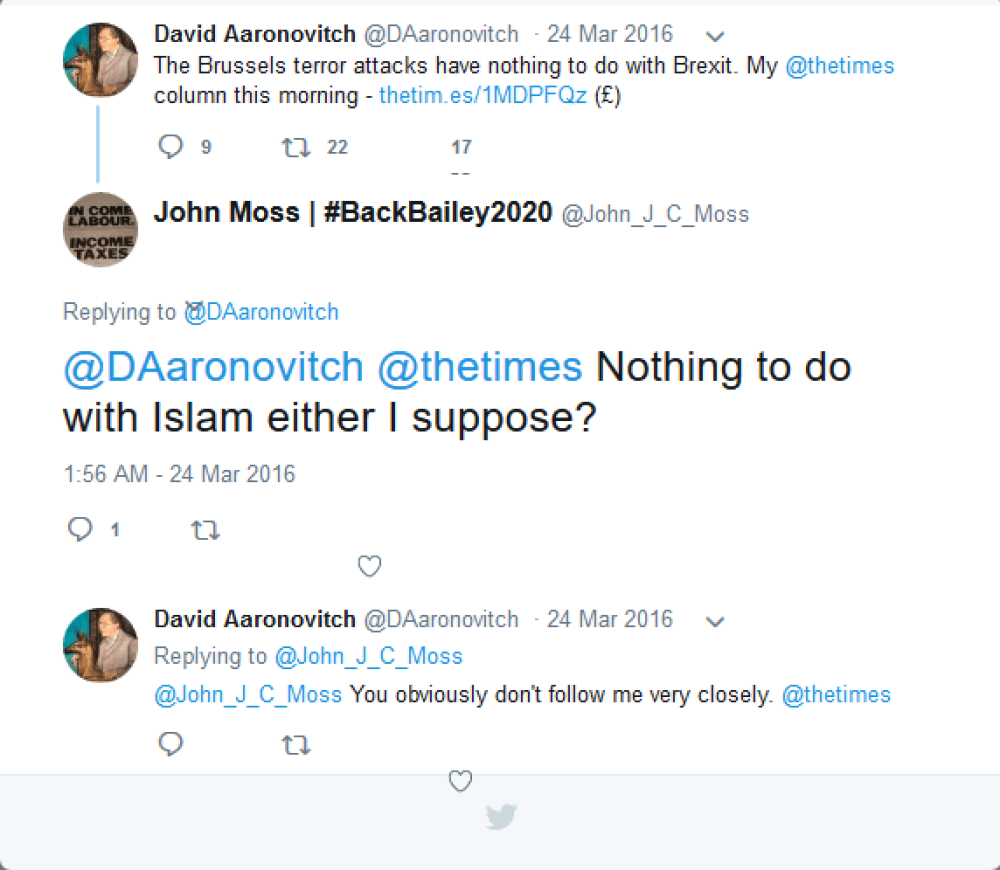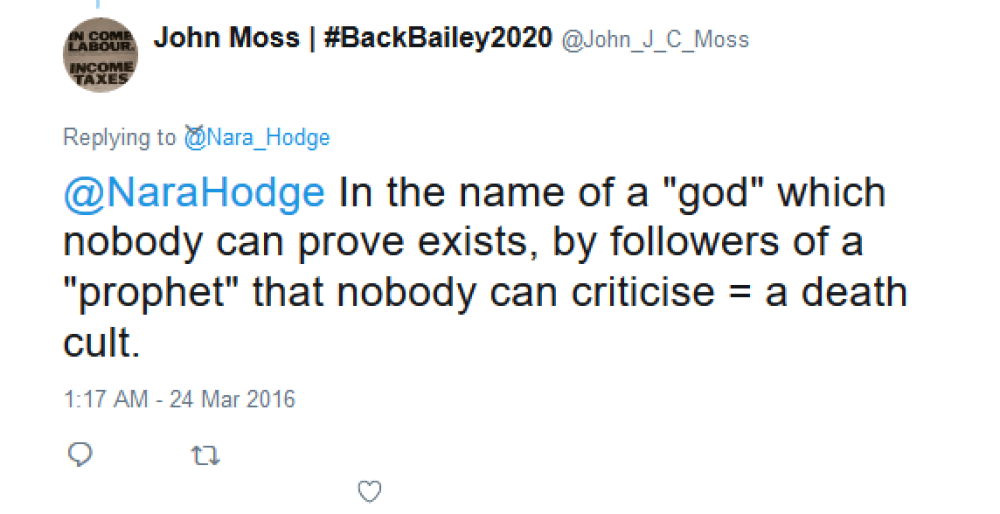 According to Tell MAMA, a tweet from Cllr Moss back in 2014 read: "Just seen a fully Burka'd women driving a BMW playing George Michael at full volume #ironyalert."
Waltham Forest Council responded to Tell MAMA's complaint and concluded that "We are also of the view that the social media posts were not made by Cllr Moss in any official capacity but were private posts unconnected with is his official council role."
The Twitter biography of Cllr Moss had read "Conservative Councillor & Affordable Housing Champion". His official councillor biography on the Waltham Forest Council website linked to his @ John_J_C_Moss Twitter account. His biography has since been updated to read "On holiday".
Cllr Alan Siggers, Conservative group leader for Waltham Forest, told the East London & West Sussex Guardian on 30th May 2019, that: "Myself, the deputy leader and chief whip interviewed John for his side of the story and we were satisfied that he does not have an Islamophobic bone in his body".
Tell MAMA stated that they welcome the decision to suspend Cllr Moss from the Conservative Party. Tell MAMA called for an inquiry into anti-Muslim prejudice and Islamophobia in the Conservative Party following the London Mayoral election campaign in 2016, a call Tell MAMA repeated again in 2018.
Cllr Moss will also undergo diversity training and will donate his salary for one month to a charity of the imam's choosing.
If any person is aware of officials making any comments of a hteful nature, please report to the police using 101 in non-emergency sitaution, but always call 999 in an emergency.
In Warwickshire reports can be made via the www.reporthatenow.com website, email EQuIP: advice@equipequality.org.uk or if you prefer to speak to a member of staff, telephone 01788 863117 between 9am-5pm (Mon-Fri).