The information below is courtesy of ParentZone.
As the Black Lives Matter campaign gathers momentum around the world, there's never been a better time to talk to children about prejudice, diversity and inclusion.
With the recent news dominated by images of mass demonstrations, children are likely to have questions about what they have seen and heard.
Parents and carers can play a key role in starting the conversation which can shape their child's world view and help to build a more inclusive and aware society. As Frederick Douglass, prominent American social reformer and abolitionist, said: "It is easier to build stronger children than to repair broken men."
No one can be expected to provide all the answers to such a complex issue and racism is far from a one-conversation topic, but it's important to take the first steps.
Fortunately there are many resources – both online and off – available to support you as you talk about the issue.
Getting Started
According to America's National Museum for African American Culture and History (NMAAHC), the number one question people have asked since it opened in 2016 is how to talk about race, and they offer plenty of online help.
Their introductory video offering Five Things Everyone Should Know About Racism is a good starting point for parents and older children in explaining some basic concepts and terminology.
The Early Years
But there's no need to wait until your child can cope with the labelling of concepts.
Anna Forgerson Hindley, NMAAHC's head of early childhood education initiative, explains that babies recognise racial differences from as early as six months. By the age of three or four years, children are learning about self and other, so it's a good time to teach them about positive self-identity, and also about how to treat others with kindness and fairness.
"For a three-year-old, it's about uplifting the joy in human diversity, but also finding connections – that we have similarities. But then as the child gets older, they're recognising the injustice and the unfairness in our culture and so we want them to be able to recognise how they can stand up for themselves and for others when they see unfair treatment happening, especially related to identity."
Celebrating Diversity
An alphabet board book developed by NMAAHC, A is for All the Things You Are: A Joyful ABC Book, celebrates diversity and encourages the development of a child's healthy racial identity. It introduces 26 personality traits, such as F is for fair, K is for kind and N is for natural.
Sesame Street can always be relied on to provide entertaining and socially-aware material for the very young. To encourage your child's sense of self-worth and foster positive ideas about racial identity, watch this clip, I Love My Hair.
Another book that celebrates diversity – in the form of all types of family households – is The Great Big Book of Families. Colourful illustrations introduce children to the fact that not all families look the same.
Thinking About Identity
The UK charity Show Racism the Red Card has developed a wealth of educational material for schools and for parents. This simple worksheet Who Am I? encourages discussion around identity, skin colour and stereotypes.
For parents keen to start their child on an anti-racism journey from an early age, the board book A is for Activist by Innosanto Nagara is the perfect guide.
And to help your child build a sense of self as a member of a community, eeBoo has produced a memory game, involving 24 multicultural characters, called I Never Forget a Face.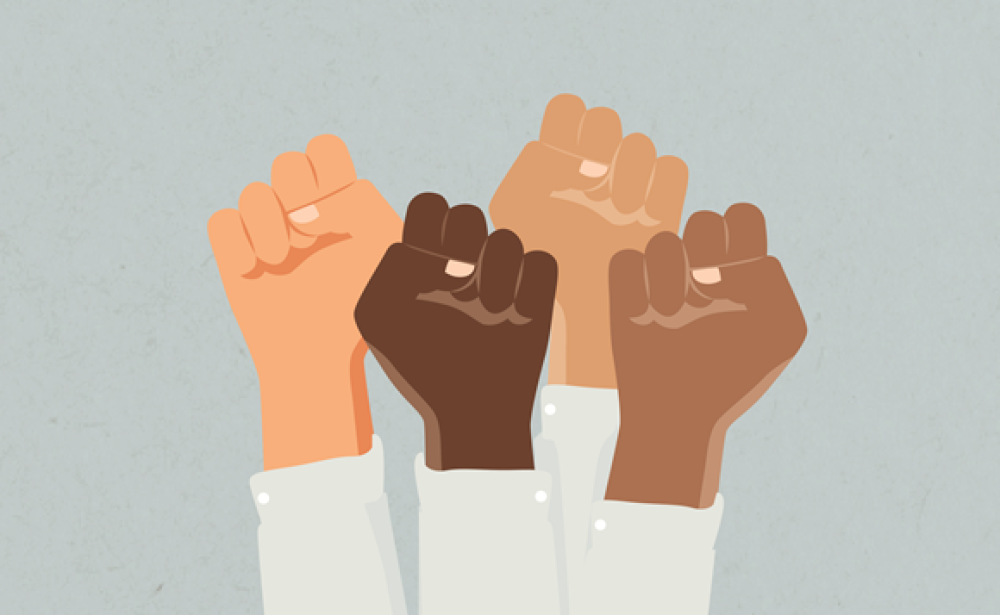 The Importance Of The Conversation
If you are wondering how to start the conversation with slightly older children, you'll find plenty of help from the childcare platform Yoopies, who have published A Parent's Guide to Black Lives Matter.
They remind parents, hesitant about such discussion, of the words of Ijeoma Oluo in So You Want to Talk About Race: "If you're white, and you don't want to feel any of that pain by having these conversations, then you are asking people of colour to continue to bear the entire burden of racism alone."
The guide says, "If we immediately shut down our children's remarks or comments on race, we risk making it into a taboo topic. Invite children to actively see colour, to see culture, to see history, and to acknowledge that race has an impact on people's life experiences."
They offer a child-friendly lens through which to view the death of George Floyd and advice on how to start the conversation. For younger children, they recommend discussions focused around fairness as a way of framing inequality and injustice. For older children, they suggest listening to what your children know, so you can build on their conversation and help fill the more difficult or challenging gaps.
Another resource to facilitate conversations is available from the blog Raising Race Conscious Children: they have compiled 100 race-conscious things you can say to your child.
There are also a number of podcasts for families – either with advice for parents on talking to their children or directed at the children themselves, with stories and music to encourage positive feelings about identity.
Bello Collective has collated eight podcasts, featuring a range of experts, for parents and 10 for children, including So Get Me - the Alphabet Rockers' podcast for families making change, featuring young activists and some lively dance tracks.
Activism & The Older Child
As older children increasingly understand ideas about racial bias, prejudice and social injustice, they may well feel empowered to be agents for change. Show Racism the Red Card has a collection of videos featuring young people, footballers and politicians talking about their personal experiences of racism.
And the BBC has three short films, suitable for 14 – 16-year-olds, that focus on the murder of Stephen Lawrence to discuss attitudes to identity, diversity and immigration.
To foster understanding of another event in recent British history, The Story of the Windrush by K. N. Chimbiri is a good place to start. An inspiring story of pioneering migrants, it takes readers, age seven and above, through 22 real-life stories, including accounts by David Lammy and Lenny Henry.
Celebrating Black Achievements
Parents can help their children celebrate black achievements and diversity by exposing them to different cuisines, authors, musicians and artists.
You can also choose books with a positive message or inspiring black protagonist such as: Amazing Grace by Mary Hoffman (for under-5s) – a picture book classic about a black girl who believes she can do anything; Trombone Shorty by Troy "Trombone Shorty" Andrews (for ages 4-8) – an autobiographical account of becoming a world-famous musician against the odds; and Malcolm Little: The Boy Who Grew Up to Become Malcolm X by Ilyasah Shabazz (for ages 6-10) – written by his daughter and celebrating his optimism and resilience in the face of intolerance and tragedy.
Organisations such as BookTrust and LoveReading recommend books on a wide variety of topics, including racism.