The BCC have reported that on 30th April 1999, a third nail bomb attack inside two weeks was carried out in London, killing three people and injuring dozens more. It was the final bombing by David Copeland, a self-confessed racist and homophobe.
Twenty years on from the explosion at the Admiral Duncan pub in Soho, those who were affected by the 22-year-old's campaign of hatred have been speaking about their experiences.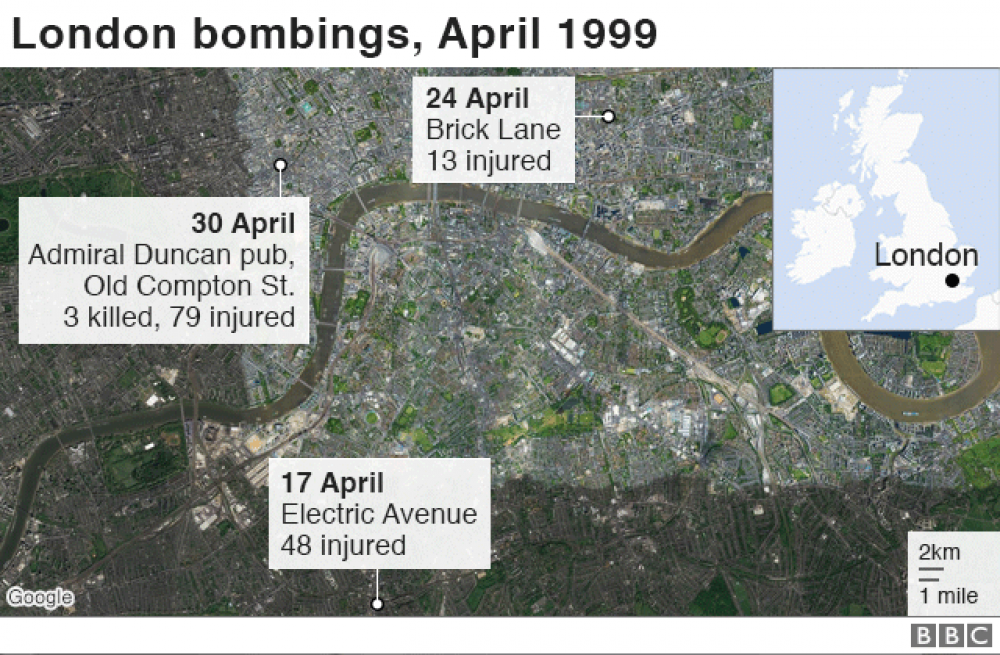 Sandra Mills was walking past the Iceland supermarket near Brixton market in south London late in the afternoon of Saturday 17th April 1999 when a bomb went off, "sending thousands of nails flying in all directions".
"I remember hearing a loud, deafening blast, like a huge gust of wind that blew all the windows out," she said.
"My heart sank to my stomach in sheer panic and I just stood still.
"After what seemed like an eternity of silence, I saw an injured man lying in the road which was covered in glass. I ran to his aid and saw he had nails lodged in his legs. "The attack just came out of nowhere. It was so frightening."
Forty-eight people were injured in the first bombing, which was intended to target Brixton's black community. One of the victims was a one-year-old boy who was left with a nail lodged in his skull. Other attacks targetted both black and minority ethnic community groups and gay people. A brief time line has been provided below to show how the attacks and overall case unfolded.
17th April 1999 - A nail bomb explodes in the centre of Brixton just before 17:30, injuring 48 people.
24th April 1999 - A second nail bomb goes off in Brick Lane at 18:00. Thirteen people are injured.
29th April 1999 - Detectives issue an image of a young white man who is their prime suspect in the Brixton attack.
30th April 1999 - At 18:37, a device explodes in the Admiral Duncan pub in Old Compton Street, London. Three people die and 79 are injured.
1st May 1999 - Police raid a house in Cove, Hampshire, where they arrest a man and seize explosive materials.
2nd May 1999 - David Copeland, aged 22, is charged with three counts of murder and three counts of causing an explosion in order to endanger life.
30th June 2000 - David Copeland was convicted of murder and given six concurrent life sentences.
The full BBC article can be viewed at: https://www.bbc.co.uk/news/uk-england-london-47216594?intlink_from_url=https://www.bbc.co.uk/news/topics/cewv36210xmt/hate-crime&link_location=live-reporting-story.
In the years Copeland has spent in prison, the age of consent has been equalised, same-sex couples have won equal adoption rights and gay marriage has become legal.
These developments clearly show that despite terror attacks and hate crimes that occur, society will stand together in the fight against terrorism and development will continue to happen despite the actions and views of racists, extremists and terriorsists. Society needs to accept every person regardless of of any of their protected characterisics.